Signature Professional Makeup Brushes
Hand-sculpted, luxurious cosmetic brushes made of the finest materials and designed specifically to provide an effortless, completely flawless application.
Regular price

Sale price

$29.00
Luxurious, Hand Sculpted Professional Makeup Brushes
Each makeup brush features an exclusive weighted brushed aluminum ferrule and handles for maximum precision during application.
PROFESSIONAL   ANIMAL CRUELTY-FREE   VEGAN   
71658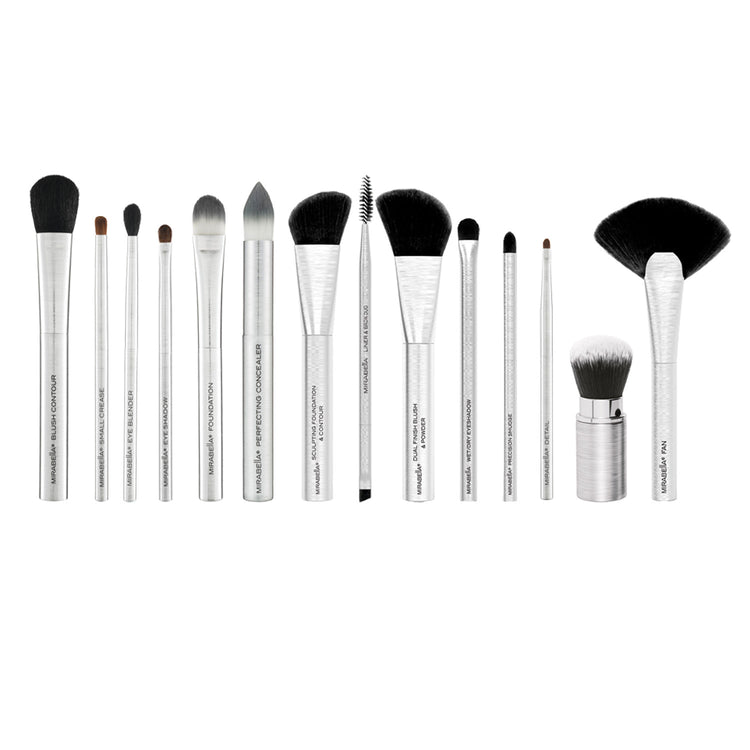 BRUSH DESCRIPTIONS:

Blush Contour Brush: Perfectly sized brush diffuses color for natural contouring and sculpting of cheeks.

Small Crease Brush: Small, round shading brush makes shadow application effortless.  Special domed shape contours and leaves no harsh edges.

Detail Brush: Small brush cut to the ideal taper for any detail work.  Firm tip is perfect for precise application of concealer and lip products.

Eye Blender Brush: Fluffy eye blender brush diffuses eyeshadow to create a naturally sculpted eye.  Tapered, domed shape with longer bristles provides flawless and easy application.

Eyeshadow Brush: Gently tapered design provides a beautiful wash of color.  Small shape is versatile for shading and blending.

Face Blender Brush: Large, circular face blender brush used with a gentle buffing motion provides lightweight application of product.  Works well with liquid, cream and powder foundation, blush and bronzer.

Kabuki Brush: Large, round, domed brush picks up just the right amount of product for flawless powder application.  With a short handle, this best-selling brush is compact enough to tuck into a purse or makeup bag, making it ideal for touch-ups on the go.  Pairs perfectly with Pure Press mineral powder foundation.

Flat Eyeshadow Brush: Flat design lays down color quickly and evenly.  Unique tapered design eliminates powder fall-out and can be used for many different application techniques.

Foundation Brush: Wide, flat foundation brush minimizes product waste and provides the perfect tool for distributing and applying liquid and cream formulas.

Perfecting Concealer Brush: The wide, round shape with a tapered, pointed end allows for precise camouflage work.  Excellent for application of both cream and liquid products.